November 26, 2002
West Wing Honors
By Amy Williams, Staff Writer
WASHINGTON -- Emmy Award winners Aaron Sorkin, Thomas Schlamme, John Wells and NBC gave reporters this behind-the-scenes glimpse into the Oval Office as seen through the eyes of its eclectic group of frenzied staffers and the devoted First Family.
This sophisticated, one-hour drama series stars Emmy winner Martin Sheen, Emmy nominee John Spencer , Emmy winner Bradley Whitford , Emmy nominee Rob Lowe, Emmy winner Richard Schiff , Emmy winner Allison Janney , Dule Hill , Janel Moloney and Emmy nominee Stockard Channing.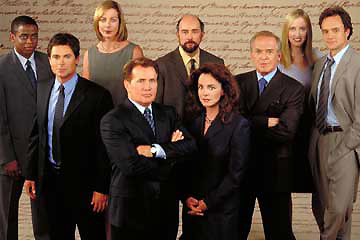 Its debut season (1999-2000) was honored with nine Emmy's and the Outstanding Drama Series, an honor the series again won in 2001.
Holdng the record for most Emmys won by a series in a single season (its first), it's other awards include a Peabody Award for excellence in television, a Golden Globe nomination for Best Drama Series and three Television Critics Association Awards.
The series centers around New Hampshire Democrat Josiah Bartlet (Sheen), the U.S. President who exudes a country-lawyer charisma that belies his brilliance, his deep conviction and devotion to what he believes is right for the country.
The First Lady Abby Bartlet (Channing) is a dedicated doctor and mother who staunchly supports her husband, but does not hesitate to put the President in his place.
1876-2002 Copyright, The Daily Republican Newspaper. All rights reserved.